It wasn't all that long ago when we reported on survey results which found that many potential buyers of electric cars were suffering from something called range anxiety, which is basically a legitimate concern about running out of battery charge while driving. What if you could drive an electric car though which went over 600 miles per charge? That's the new world record according to Sanyo, which said recently a vehicle powered by its batteries had gone the distance.
Sanyo stated that a Japanese vehicle driven by the Japan Electric Vehicle Club in the last few days broke the current Guinness World Record for the longest journey without recharging. The Mira EV, as it is called, achieved a travel distance of 1,000 km (1,003.184 to be exact) at a training school for auto racers in Ibaraki, Japan. The Sanyo batteries under the hood which drove the electric motor were of the same variety as those normally used in laptops, though in this case there were 8320 cylindrical lithium-ion batteries and not just one.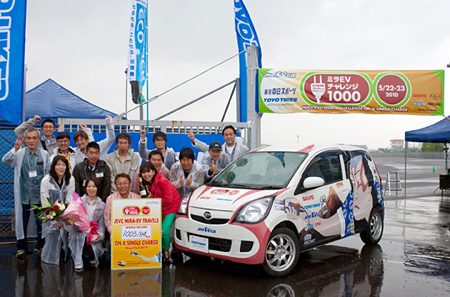 The previous record holder of this title probably doesn't object, since it was the same Japan Electric Vehicle Club that held it. In that particular instance the Mira EV did "a 555.6km run without recharging from Tokyo to Osaka, Japan on November 17" of last year.
Like what you are reading? Did you know EarthTechling also does lengthy and original features on green technology? Check it out!