Ladies and gentlemen, children of all ages, the time has come to place your bets. American manufacturer ZEV has thrown down the electric motorcycle-shaped gauntlet by proclaiming to have the fastest electric scooter currently available in the form of the ZEV7000. Maybe it's the fastest, maybe it's not; but for $7,237, that scooter had better transform into a rocket.
At first glance, the ZEV7000's stats might not make it seem all that fast: its top speed is only 70mph. Still, for a scooter, that's mighty quick, and ZEV claims the machine's components are what gives it an extra boost beyond merely considering top speed. "ZEV claims its secret recipe for massive torque is as simple as using large-diameter, multiphase motors," says Gizmag, "with a heavy emphasis on component cooling. Cooling the hub-mounted motor using an oil bath arrangement lets ZEV run a large motor at high speeds without the power sapping and motor-destroying effects of excess heat."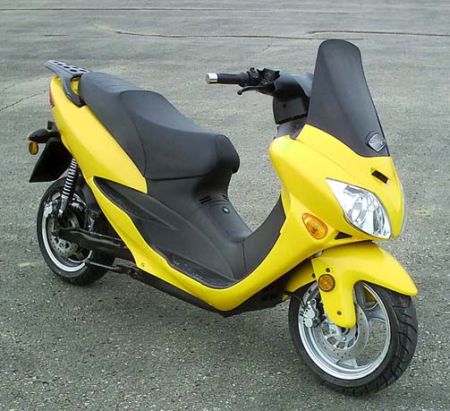 A fully charged ZEV7000 can travel between 55 and 70 miles before recharging is required, and the charge is complete in just under two hours. As another example of its beneath-the-hood tweaking, the vehicle's range can be extended by utilizing its electronic transmission, a switch that lets the user specify the engine's running amps. Low amps equals extended range, while high amps will drain the battery faster.
Are you on Facebook? Consider becoming a fan of EarthTechling to interact with other green tech lovers and read the latest in green tech news and features!