And now let us applaud Office Depot, a company that seems to have figured it out: consumers want an easy way to recycle old electronics, and we'd like an economic incentive to do so. The major chain recently announced that they'll be offering a Tech Trade-In promotion aimed to helping customers get money back for old electronics (while encouraging them to buy new stuff, of course). Additionally, Office Depot is aiming at collecting 400 tons of e-waste during a one-month window in honor of the 40th anniversary of Earth Day.
During their Trade-In Trade Up Event, Office Depot is offering $25 off any shredder priced at $129.99 or more when you trade in an old one, and $50 off any printer priced $199.99 or more when you trade in a old printer (from March 28 to April 24), as well as $30 off any camera $149.99 or more when you trade in a functioning 5MP camera or higher with its own rechargeable battery, and $75 off on any notebook computer when you trade in a still-functioning Microsoft XP laptop (or newer) complete with the power cord (March 28 to April 24).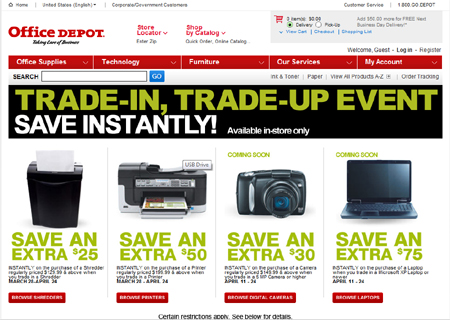 As far as more lasting incentives, starting April 11, customers can visit www.officedepot.com/tradein to trade in their old electronics (presumably via US Mail) and receive an Office Depot gift card. (The gift card value is determined using a recycle trade-in value as determined by Gazelle.)  At the Office Depot website, customers can trade in LCD monitors, LCD TVs, digital cameras, desktop and laptop computers, gaming systems, MP3 players, camcorders, Smartphones/PDAs (among other things), and in turn will receive a gift card redeemable at any retail store.