And now, to meet the deep and burning worldwide need for clothing that changes shape, a piece of clothing from industrial designer Jae Kim: the kinetic mechanical skirt.
At rest, it looks rather innocuous–a long gray skirt with an interesting shape that might look nice with a simple blouse and maybe some clogs. But according to Designboom, at the push of a hip-mounted button/control-pack thing, this garment changes shape, via the embedded wires that give the skirt that triangular quilted look. The whole thing, presumably, is powered by the kinetic energy generated by the natural movement of the skirt.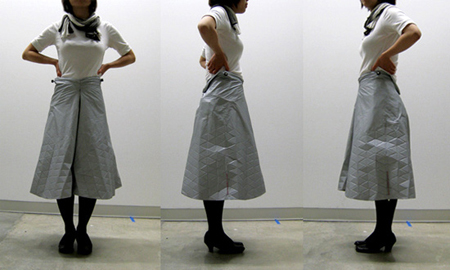 On one hand, this doesn't seem a terribly practical garment. (But hey, what do you expect from a garment created by an industrial designer?) On the other hand, the novelty factor here cannot be denied. Imagine the attention you'll attract at your next party when your skirt starts to dance by itself!