More and more folks these days seem to be interested in the plant known as jatropha. (NASA, for instance, recently sent samples of the plant into space in order to test the effects of zero-gravity on biodiesel crops.) Now, General Motors and the U.S. Department of Energy (DOE) have announced that they'll be partnering to explore the potentials of jatropha on the ground for widespread bio-diesel production.
Jatropha is a promising fuel source largely because it's traditionally been thought of as a weed; this drought-resistant, non-edible plant can be grown with minimal care on marginal land and produces oil-rich seeds. The goal of the partnership project–which will be conducted in India, near GM's India Car Manufacturing plant–is to demonstrate that jatropha can produce significant quantities of oil, withstand frost and grow in temperate climates such as the United States, as well as to develop new high-yield varieties.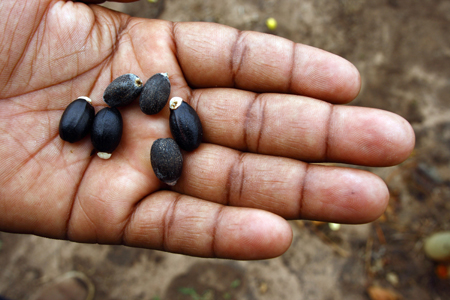 "In the long term, if jatropha is commercially viable, it will reduce dependence on petroleum as well as reduce greenhouse gas emissions and promote economic growth," said Mike Robinson, GM Vice President of Environment, Energy and Safety Policy, in a statement. GM sees jatropha-based biodiesel as a way to penetrate developing markets for alternative fuels that currently rely on diesel, but they're not the only ones; the Indian government itself, as well as nations such as China, the Philippines and several African countries are currently conducting research programs in jatropha cultivation and oil extraction on eroded farmland and other marginal areas.
Enjoying EarthTechling? Vote for us as Best Sci-Tech Blog (scroll down to fourth category) in the TreeHugger Best of Green Awards! Thanks!