When it comes to green, federal stimulus money seems to be the gift that keeps on giving.  Baltimore Gas and Electric Company (BGE), recently announced that it has finalized an agreement with the U.S. Department of Energy (DOE) for a $200 million federal stimulus grant in support of a new Smart Grid initiative. It's estimated that when this new Smart Grid system comes online, it will result in an estimated $2.6 billion in customer savings over the life of the project.
What's so smart about BGE's SmartGrid? It's a little vague as far as the press release goes, but it would appear that this technology will allow customers to have more control over the way they consume and conserve electricity, offering bill credits for reduced energy consumption during periods of peak demand and enhanced information about energy usage habits and costs, along with incentives to save. The benefits to BGE are also clear, as the system will allow the utility to better manage existing resources, helping them (and customers) meet the 15% reduction in peak energy demand statewide mandated by 2015 under Maryland's EmPOWER Maryland Law.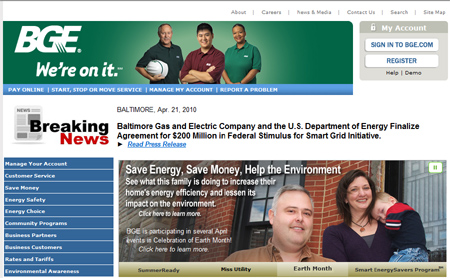 BGE is now waiting on approval by the Maryland Public Service Commission, which recently concluded its hearing process and is currently deliberating on the issue. Approval by the Maryland PSC would pave the way for the DOE grant to take effect.