You'd think that with a global recession on our hands and the corresponding credit freeze, wind energy would have seen a slump from its 2008 high. And yet, just the opposite appears to be true. According to a new report from the Earth Policy Institute, 2009 was another record-breaking year for wind power installations all over the world.
Leading the way was China, with a breath-taking 13,000 megawatts of new wind capacity (the first time any country has built more than 10,000 megawatts in a single year) bringing it to 25,000 megawatts overall. China has doubled its total installed wind capacity in each of the last five years, bringing it into third place behind the United States and Germany, but it doesn't look like it will take the bronze in that category for much longer. Six provinces across the country's northern half slated for  "wind bases" under amendments to the Renewable Energy Law of 2006 are projected to bring China close to 130,000 megawatts of generating capacity in the near future, more than the entire world had at the end of 2008.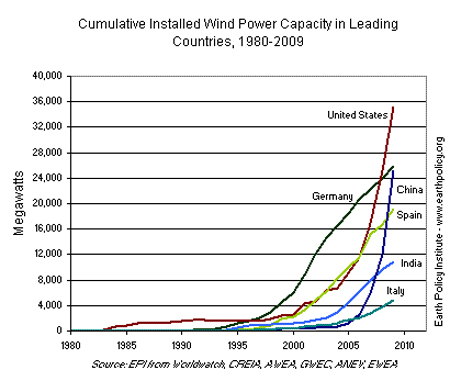 In the U.S., the wind industry was expected to take a hit in 2009, but appeared to be buoyed up by the American Recovery and Reinvestment Act, which led to the installation of 10,000 megawatts over 100 new wind farms in 28 states (with Texas leading the way), allowing it to bypass Germany, the longtime leader in installed capacity, with a cumulative 35,000 megawatts. Spain led the charge with new installations in the European Union, with with 26,000 total megawatts installed, However, Germany still commands Europe's largest wind capacity, with two states in northern part of the country routinely meeting 40 percent of their electricity needs with wind energy.
Enjoying EarthTechling? Vote for us as Best Sci-Tech Blog (scroll down to fourth category) in the TreeHugger Best of Green Awards! Thanks!