Increasingly, retired folks don't see the need to knock around in a big house that sucks up a lot of cash in their golden years–and those worried about staying up on their mortgage payments are looking for a little something they can rent out to help make ends meet. That's where a Vancouver-based builder called Smallworks comes in, catering to the growing, recession-era market for "accessory dwelling units."
The West House is great example of this functional "small is beautiful" aesthetic. According to Jetson Green, this two-level home features 610 square feet of living space — living/dining/kitchen area, loft bedroom, nook desk space, and bathroom — and a 226 square-foot garage. This small or "laneway" house features Energy Star appliances throughout as well as integrated solar panels, resulting in energy usage about half that of the standard house.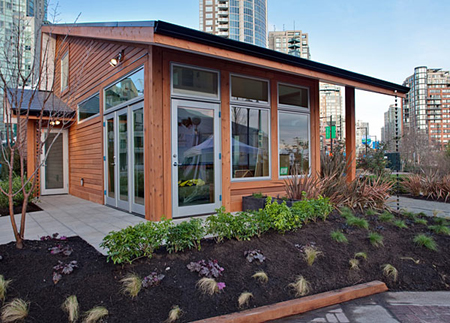 According to Smallworks, laneway homes are garage-sized structures built on the existing lot of a single-family dwelling  that are at least 33 feet wide and face onto an open lane. They point out that such homes can be used by students, boomerang kids (perhaps ones who can't find a job in the current economy), aging family members, caregivers or others. The company believes these homes can help ease the affordable housing problem in Vancouver while serving as "mortgage helpers." West House was on display at LiveCity Yaletown, David Lam Park, during the Olympics.
Enjoying EarthTechling? Vote for us as Best Sci-Tech Blog (scroll down to fourth category) in the TreeHugger Best of Green Awards! Thanks!