In-home energy displays, which typically let you see real time energy usage information from around your home, are a new category of products tied to the two-way smart grid. They also are designed to tie you closer to your utility, sending energy usage information to it for a variety of purposes while at the same time letting your utility send you status messages. One company just announcing its entry into this hardware space is Tendril.
Tendril is getting ready to make available to the public the Vision in-home energy display. Measuring eight- by six-inches and weighing under two pounds, the Vision looks a lot like a really large, all digital alarm clock. It is called a home appliance by Tendril, providing to utility customers "continuous information via a device that is unobtrusive, intuitive and an accepted part of everyday living." One of its functions as a two-way communication device is to allow your utility provider to, through visual on-screen cues, warn you of upcoming, power related events. It could, for example, let you know when a peak pricing period is occurring so you might wait until said period is over before firing up your dishwasher.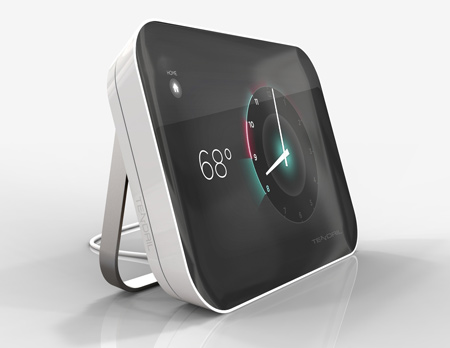 Accompanying the Vision is a Web portal service where one could look up detailed energy information online, as well as creating and managing a customized energy use plan (depending upon the provider). Tendril estimates utility customers with a Vision in their home could reduce their energy consumption by an average of 10 to 15 percent.
Enjoying EarthTechling? Vote for us as Best Sci-Tech Blog (scroll down to fourth category) in the TreeHugger Best of Green Awards! Thanks!