Admit it: if you didn't have to get up every morning and trudge into work, you wouldn't move from your sofa. And who can blame you? It's comfortable, there are usually cold beverages and snacks close at hand, and loved ones can snuggle up with you to enjoy the latest DVD or Blu-ray release. Capitalizing on the concept of the couch potato is Abra Marine's sofa boat, a couch-shaped boat powered by an electric motor.
Noticed by Green Cleaning Ideas, the sofa boat is a 3.5-meter platform of floating fun replete with a sun canopy that covers the sitting area, steering controlled by a joystick, and a soft-foam bumper for cushy maneuverability in crowded areas. Free of emissions, the all-electric boat can run for as long as 12 hours on a fully charged battery, which can be charged using a standard electrical outlet. Abra Marine also plans to release a solar-powered sofa boat, which "will be equipped with seven square meters of solar panels to generate up to 1000W of renewable electric power, enough to propel the boat for up to 10 hours," according to Green Cleaning Ideas.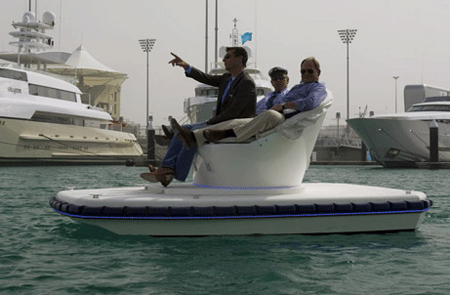 Speaking to Business World regarding how the sofa boat came to be, Dr. Martin Mai, managing director of Abra Marine, said the impetus for the vehicle was "to offer boats that were enjoyable to women and families – low noise, easy-to-handle craft [sic] that are perfect for quiet sundowners or a more glamorous arrival at a private yacht than in a tender." Switched reports that the standard model of the sofa boat will run for approximately $16,000.