You want sexy eco-car? If anybody can do it, Porsche can. Feast your eyes therefore on the new 918 Spyder concept car being showcased at the Geneva Auto Show. It is described as an "ultra-efficient, low-emission, mid-engine super sports car featuring hybrid and electric drive technology." We just describe it as wow!
The 918 Spyder concept, said Porsche, has a special powertrain which combines a "race-bred" V8 engine with electric drive. The engine itself has more than 500 horsepower and a maximum engine speed of 9,200 rpm, while the electric motors on the front and rear axle have an overall mechanical output of 218 horsepower (160 kW). Front-wheel electric drive powers the wheels through a fixed transmission ratio, while the car's juice comes via a fluid-cooled lithium-ion battery positioned behind the passenger cell. As this is considered a plug-in hybrid, it can be recharged via either kinetic energy converted into electrical energy when applying the brakes or through plugging in to a charging station or wall outlet.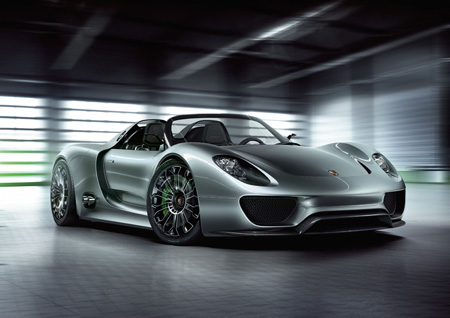 As DailyTech points out, the 918 Spyder can "can bolt to 60 mph in just 3.2 seconds and can travel 16 miles on battery power alone" while getting an estimated 78 MPG. It should be noted as well this concept car did "a lap time on the Nordschleife of Nurburgring in less than 7:30 minutes, faster than even the Porsche Carrera GT." It is one of three vehicles Porsche is showing off with hybrid technology at the Geneva event – the other two are the Cayenne S Hybrid SUV and the 911 GT3 R Hybrid.