What do recycling and adventure education design have in common? A boat made of 12,000 plastic bottles traveling the world to raise awareness about the pollution in the world's oceans (and the way we use materials in general): the Plastiki.
The Plastiki is an ingeniously engineered vessel designed by a team from the fields of sustainable design, boat building, architecture and material science, with the aim of fostering new ideas and cutting edge technologies in the form of a one-of-a-kind expedition sailing ship. The group behind the Plastiki and its mission, Adventure Ecology, claims inspiration for the project from a report issued by UNEP called 'Ecosystems and Biodiversity in Deep Waters and High Seas' and Thor Heyerdahl's epic 1947 expedition, The Kon-Tiki. The Plastiki's mission is not only to inform, but to "captivate, activate and educate the world that waste is fundamentally inefficient design," pointing out that there's no such thing as waste in nature. The crew set sail this week from San Francisco and can be followed via the Plastiki Blog.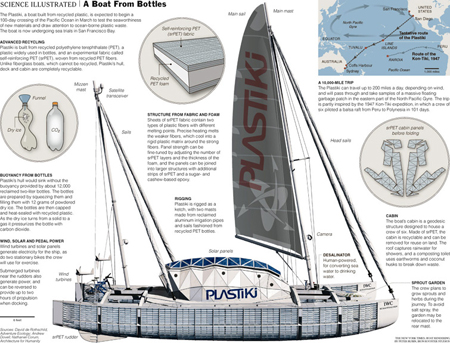 According to the Plastiki website, it is estimated that almost all of the marine pollution in the world is comprised of plastic materials, accounting for the death of one million seabirds and 100,000 marine mammals and sea turtles every year. By illustrating exactly how useful re-purposed plastic can be, the Plastiki is a living example  of the fact that with more efficient design and a smarter understanding of how we use materials, principally plastic, waste can be transformed into a valuable resource. The ship has its share of green technologies on board, including solar panels, wind turbines, trailing sea turbines, bicycle generators and, in a little Waterworld action, a urine-to-water recovery system….yumm.
Enjoying EarthTechling? Vote for us as Best Sci-Tech Blog (scroll down to fourth category) in the TreeHugger Best of Green Awards! Thanks!