Within the sprawling corridors and multiple tiers of an Ikea store, one will find entertainment centers, bookshelves, sofas, chairs of all sorts, coffee tables, lamps and lamp tables, beds – anything and everything one could want for one's home. The only thing missing is the home itself. Beginning this April in the United Kingdom, the Swedish furniture store chain take the next step in its endeavor to provide homeowners with everything their hearts desire: the home itself.
Alternative Consumer reports that Ikea will be partnering with building firm Skanska to provide the Boklok (pronounced "boo-clook") line of prefabricated houses in the Wiesbaden suburb of Auringen on April 17th, all of which will doubtlessly be furnished with Ikea merchandise. According to The Local, another 30 Ikea homes will go on the market in Offenbach. Owners can expect to reside in their new abodes by the end of 2010.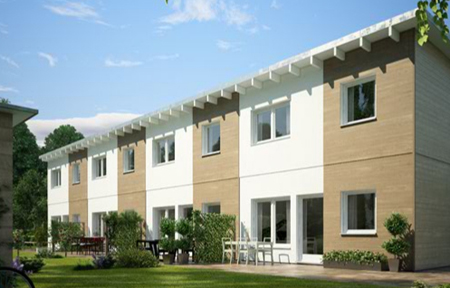 Each prefab home is energy efficient and is available in 84 or 102-square-metre living spaces, in addition to family homes with two to four bedrooms. The projected cost: between $246,000 and $340,000. Those who have difficulties following assembly manuals for even the simplest of furniture may rest easy: no assembly is required for a Boklok home.