Another day, another auto manufacturer going hybrid. This time around it is Hyundai, unveiling today at the international auto show in New York a hybrid version of its Sonata. Hyundai, in its unveiling, is saying the new 2011 Hyundai Sonata Hybrid is a game changer in the hybrid niche because it is the first to offer "gasoline direct-injection (GDI), twin-scroll turbochargers, and full-hybrid powertrains" in one package.
Hyundai's so called "Hybrid Blue Drive," according to the auto maker, is "a full parallel hybrid drive system, which can operate on an electric motor, gasoline internal combustion engine, and a combination of the two depending on driving conditions and driver demands." It is said to be the first to make use of lithium polymer battery technology, which reportedly is more efficient then other hybrids using nickel-metal hydride and lithium-ion applications for their batteries. The Blue Drive offering also makes use of a 6-speed transmission, modified with hybrid starter-generator, electric motor, and low-friction oil pump to eliminate "the traditional torque converter."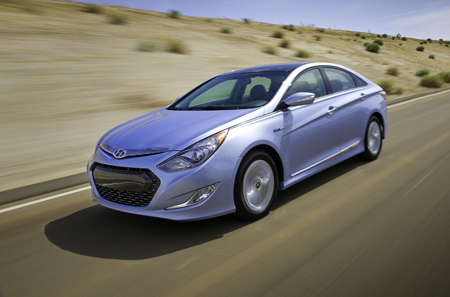 Hyundai says its new hybrid will get 39 MPG on the highway and 37 MPG in the city. Electric vehicle only operation reportedly will be available up to 62 MPH, and the vehicle's two propulsion units develop a total output of 209 horsepower at 6,000 rpm and 195 lb-ft of torque. A special 4.2-inch LCD display screen will provide the driver information about the hybrid system, including energy flow within the vehicle, engine and motor movement, fuel level, battery power levels and charge status, electric vehicle mode indicator and average and instant MPG.
Enjoying EarthTechling? Vote for us as Best Sci-Tech Blog (scroll down to fourth category) in the TreeHugger Best of Green Awards! Thanks!