Playing God is generally frowned upon, but when it comes to monitoring your own home's electricity usage, shouldn't you be able to have a say in exactly how your power is used? That's the thought process behind the eMonitor by Powerhouse Dynamics, a device that will report and allow management of energy usage throughout the user's home.
How exactly does the eMonitor function? At anytime, the eMonitor can provide "your home's 24×7, minute-by-minute electricity use, electricity cost, and carbon footprint, as well as historical information by day, month, or year, all in a personalized and intuitive graphical interface from anywhere you can access the internet," according to a press release. The most advanced feature of the eMonitor is the capability to narrow down energy usage to a single circuit, allowing users to precisely isolate egregious energy usage by appliances. Should a device be using too much, eMonitor provides an alert and allows the user to make adjustments. The eMonitor can even be integrated into renewable energy-based solutions such as solar panels, and is able to report on problems with those installations as well.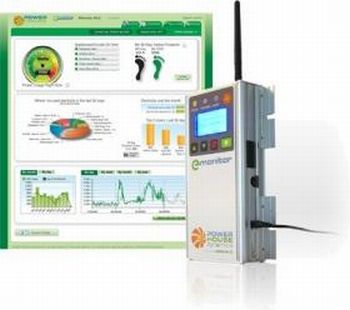 Energy Circle is offering a single eMonitor unit at an introductory price of $799, and two units for $1,498. Why would you need two units instead of one? Each eMonitor is able to monitor 22 circuits. Most American residences will only need a single unit, but for homes with more than 22 circuits, a second unit will be necessary.
Enjoying EarthTechling? Vote for us as Best Sci-Tech Blog (scroll down to fourth category) in the TreeHugger Best of Green Awards! Thanks!