A simple way to get rid of 65,000 tons of e-waste each year? Recycle all cell phones. That's what Dallas-based eRecyclingCorps aims to do by partnering with major cell service providers in a comprehensive buy-back recycling program.
According to a news release, eRecyclingCorps has developed a system that allows customers to recycle their cell phones at the same place they most likely purchased  them–carrier retail stores. By deploying a web-based platform that integrates directly into the point of sale at these stores (where 60 percent of all US phones are currently sold) the eRecycling program works with carriers to offer customers trade-in incentives and strict privacy controls along with the opportunity to significantly reduce downstream e-waste.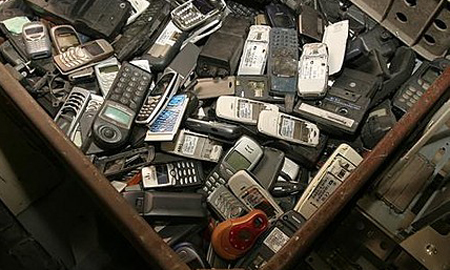 Sprint is the first major US carrier to adopt the eRecycling Corps program, where it is currently in use at 1,100 company owned Sprint stores and 1,400 Sprint Preferred Dealers as well as through its online channels. Through Sprint, customers receive an instant account credit for trading in eligible wireless devices (which also helps the company by encouraging people to renew their contracts with the buyback incentive, rather than going elsewhere with their business). Sprint's goal is to achieve to achieve a 90% recycling and reuse rate on wireless devices by 2017.
Enjoying EarthTechling? Vote for us as Best Sci-Tech Blog (scroll down to fourth category) in the TreeHugger Best of Green Awards! Thanks!