President Obama wants to have you green your home – badly. So badly in fact he is willing to help you do it through a new federal incentive program called Homestar (also affectionately known as Cash for Caulkers). The goals of this new program? If passed by Congress and turned into law Homestar would, in theory, both create new jobs around doing energy efficient improvements and also help America become much energy efficient as a nation. It is not known yet how much this program would cost or how long it would run for, but the Associated Press reports "the price tag could be in the range of $6 billion."
The focus of Homestar is fairly simple, as outlined by the White House. Those who make investments in energy efficiency projects for their homes, such as upgrading insulation, duct sealing, water heaters, HVAC units, windows, roofing and doors; or doing a home energy audit and subsequent retrofit, would be offered rebates ranging from $1,000 to $3,000 per home. These rebates will come in what will be known as Silver, for simpler, or Gold, for more complex, levels. Rebates "would be limited to the most energy efficient categories of upgrades—focusing on products made primarily in the United States and installed by certified contractors", and one could potentially get extra rebates as well for things like Energy Star energy-efficient appliances.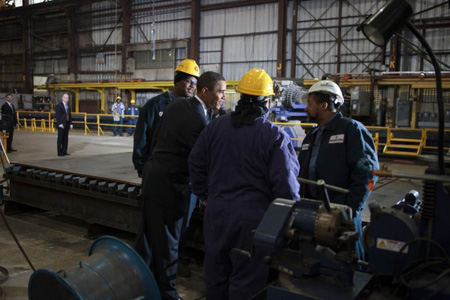 It is said that this "program will result in the creation of tens of thousands of jobs while achieving substantial reductions in energy use – the equivalent of the entire output of three coal-fired power plants each year" and that consumers "are anticipated to save between $200 – $500 per year in energy costs, while improving the comfort and value of their homes." It would also include support for "state and local governments to provide financing options for consumers seeking to make efficiency investments in their homes." The rebates being offered through the Homestar program would also be marketed and provided directly to consumers at the point of sale from "a variety of vendors," who would in turn be reimbursed by the federal government.