Solar power this, wind power that — what about advancement in hydro power? That's the question asked by US Department of Energy Secretary Steven Chu, who points out that despite hydropower being the largest source of renewable electricity in the U.S., no noteworthy increase in hydro power capacity has occurred in decades.
Intent on rectifying this oversight, Chu and US Department of Interior Secretary Ken Salazar have announced "a Memorandum of Understanding on hydro power." "By signing a Memorandum of Understanding (MOU)," explains a Department of Energy-issued release, "the federal agencies agree to focus on increasing energy generation at federally-owned facilities and explore opportunities for new development of low-impact hydro power."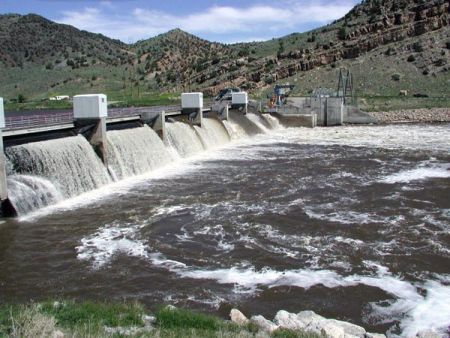 Detailed within the memorandum are specifics as to how those objectives will be carried out. Facilities in need of upgrades will be given them, and will be used as sites for the demonstration of new hydro power technologies. Hydro power policies will be integrated at the federal level, and collaborative efforts will be undertaken to identify total incremental hydro power resources at federal facilities. Finally, research and development on advanced hydro power technologies will be conducted, and increasing hydro power generation through low-impact and environmentally sustainable methods will be made a priority. More information pertaining to the Department of Energy's hydro power goals and objectives can be found on the department's Wind and Water Power website.
Enjoying EarthTechling? Vote for us as Best Sci-Tech Blog (scroll down to fourth category) in the TreeHugger Best of Green Awards! Thanks!