Summary:
Looking for well designed, eco-friendly in-ear headphones which sound great? Thinksound (aka Timbre Sound) has all of these bases covered with its Rain model, which we found to be exactly what the company advertises on the back of the recycled retail packaging. There's nothing overly complicated with these headphones – they just do a solid job at delivering great audio in a nice little green package.
Rating:
EarthTechling gives the Thinksound Rain in-ear headphones 4.5 OUT OF 5 ECO-STARS.
Introduction:
Headphones for your personal audio entertainment are a dime a dozen these days. You can get real cheap ones made of plastic for just a couple of bucks or you can pay hundreds of dollars for sophisticated models with features like noise cancellation and digital audio enhancement. One underlying question for all of them though – are they eco-friendly?
Eco-friendly headphones? That perhaps sounds just as strange as eco-friendly iPod speaker systems. A few companies, though, are trying to make a green difference in what ways they can with niche audio products. Thinksound is one such company, recently providing us one of its Rain 9mm in-ear headphones for review consideration.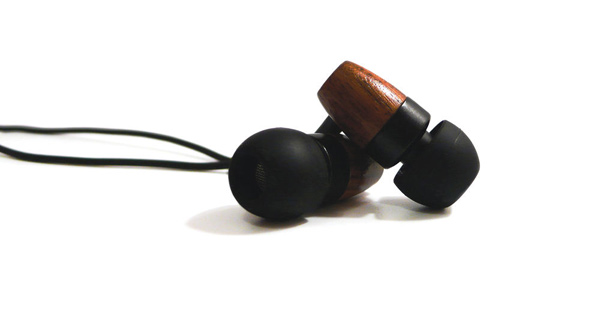 The Review:
The Rain in-ear headphones from Thinksound have a simple design which is found in common with many similar in-ear models. That being said, these earphones sport a wooden housing for each of the sound drivers that gives them a nice, warm look compared to others out there. It is said the wood used in the housing comes from renewable sources, and that the attached cables are PVC free. What this amounts to is a whole lot of green thought in a small package.
So they might look nice and have some treehugger qualities to them, but how do the Thinksound Rain earphones sound? About as good as you can get for something that retails for around $100. A standard 3.5mm gold plated plug, a sound driver with 20Hz to 20kHz frequency response and the acoustic qualities of the wood driver housing all combine to create quite the little symphony in one's ears. Several hours of listening easily made us realize the claimed "crisp highs with balanced bass and mids" wasn't just marketing, but quite true instead. This is further enhanced by decent passive noise cancellation.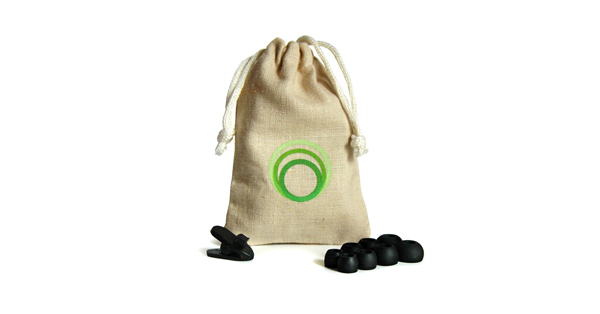 A variety of small touches also make the Rain in-ear headphones a nice choice for one's portable audio gear. An included cotton carrying pouch is "sewn from renewable resources." The reduced retail packaging comes from recycled materials. Included as headphone accessories are four sized silicon ear inserts for different ear canal sizes as well as a small cord clip.
The Final Word:
In a review as simple as this, there isn't really much one can find negative with the Thinksound Rain in-ear headphones. They are well designed from eco-friendly materials, have useful accessories included and, best of all, they sound really, really good. The price point might turn off a few used to buying cheap headphones which break quickly and sound badly, but for the rest of us there's nothing wrong with enjoying a little Rain now and again for our music listening needs.
Enjoying EarthTechling? Vote for us as Best Sci-Tech Blog (scroll down to fourth category) in the TreeHugger Best of Green Awards! Thanks!