Uh oh, Oregonians, think you're the e-waste recycling champs of the Northwest? Think again! This year, residents of the state of Washington recycled nearly twice as much electronic trash as residents of the Beaver State–more than 38 million pounds, as compared to a paltry 18.9.
KGW Newschannel 8 of Portland reports that Washington's free electronics recycling program works by collecting TVs, computers and monitors this year from households, schools, small businesses and charities at authorized collection sites. The state program is paid for by the products' manufacturers and regulated by the state Ecology Department–the director of which, Ted Sturdevant, called the E-Cycle Washington program "even more successful than we had hoped."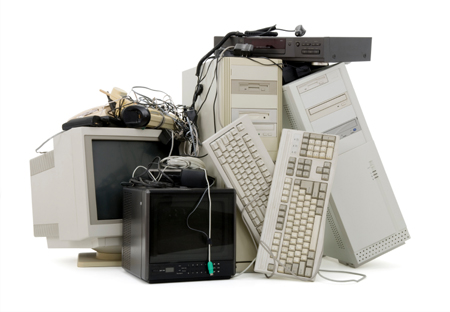 E-Cycle Washington reports that it the total amount of e-waste collected this year includes 22.3 million pounds of televisions,12. 3 million pounds of monitors, and 3.9 million pounds of computers. This is a great boon to the local ecology–especially areas around landfills and incinerators–as TVs and computers especially are known to contain toxic materials such as lead, cadmium and mercury. Through the State of Washington's E-Cycle program, electronic equipment is taken apart and separated into materials such as glass, plastic, metal and toxic chemicals, then recycled in accordance with the Department of Ecology.