Low speed electric vehicles, also known as neighborhood vehicles, are a particular market segment which offers potential for a lot of low cost vehicles to emerge from for those looking for a slow drive around town. Not all are particularly low cost though – especially if they come from a region of Italy where the developer is sharing landscape with "the headquarters of sports car legends like Ferrari and Lamborghini." The electric vehicle developer in question is Tazzari, the vehicle is the Zero and the price? Green Car Advisor reports it will be available perhaps by April for around $30,000 (before tax breaks).
Tazzari, which recently said production of the Zero was in full swing, is certainly not what you'd call a bad looking low speed electric vehicle. It has some Mini Cooper-esque touches to it. It definitely doesn't go as fast though, topping out at 56 MPH (though here in the U.S. it reportedly will be "further limited electronically to just 35 miles an hour" to meet with low speed vehicle requirements). It has an estimated drive range of 87 miles or so and a standard full charging time via a 220v charger of around nine hours. The battery is lihium-ion and it works in conjunction with the rear-wheel drive, 3-phase asynch. electric motor to drive the Zero.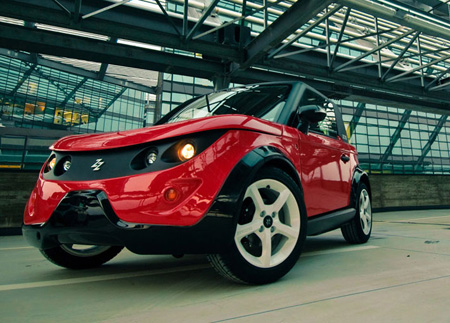 One of the more interesting aspects of the Tazzari Zero is one's ability to choose from four colored buttons to select a driving mode. These modes range from "race," which is said to bring out "maximum power," to the more safety travel, road grip focused "rain" option. Luxury doesn't seem to be a problem in the Zero, as the car offers a number of comfortable options like "eco-leather" seats, alloy wheels, LED lights, a sports pedal, iPod connectivity to the audio system and a sunroof.