Sony has announced the newest member of its environmentally friendly GreenHeart line-up of mobile phones: the Sony Ericsson Aspen, which packs all the tech users want in a mobile device into a framework built from recycled materials and other such environment-focused features. In a press release issued by Sony Ericsson, Quentin Cordier, Global Marketing Manager for the Sony Ericsson family of devices, confidently referred to the Ericsson Aspen as "the business phone with a conscience, perfect for any consumer or company who want to make a green choice in their daily work life."
Joining the Ericsson catalog's Hazel and Elm phones, the Aspen boasts a QWERTY-style keyboard, a 240×320 display resolution, 100 megabytes of on-board memory, SanDisk microSD support for up to 16 gigabytes of additional storage, pocket-friendly weight and dimensions, a touch screen and some different color schemes, among other specs.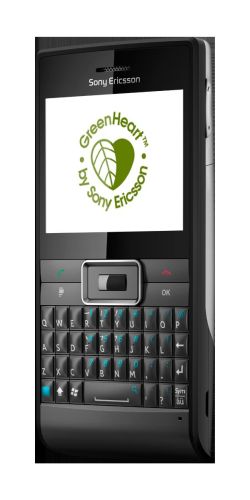 As if its technological features didn't make it desirable enough, the Aspen also falls in line with the GreenHeart model of how a green device should be built. Referred to on the product's official website as "best pals with Mother Nature", the Aspen is constructed using recycled materials, and its black or white-silver finish is applied with PPG's WaterBorne paint, a paint that contains lower VOC (volatile organic compounds) than solvent, which improves air quality.