The Greener Gadgets Conference – of which EarthTechling is a media sponsor – is coming up this Thursday in New York City. The annual one-day event, put on by the Consumer Electronics Association, highlights "top products, industry experts and [a] design competition" related to green technology.
The CEA has released details on what looks to be the final agenda for the day. Details of it are posted below. The conference itself will be held at the McGraw-Hill Conference Center.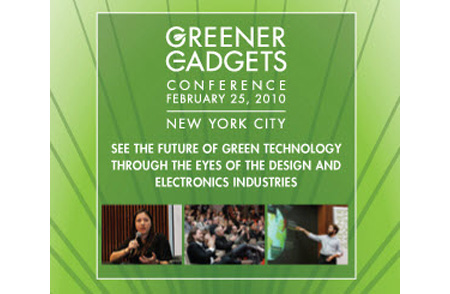 CEA's Digital Answer Man, Jim Barry, with cool new green products from 2010 CES and more for media to experience firsthand.
A gallery of green products from exhibitors including: HP, Panasonic, MeadWestvaco Sustainable Minds, ReCellular and TrickleStar.
Keynotes from visionaries in sustainable product design, including:
o 9:30 a.m., Opening Keynote with Yves Behar, Founder, fuseproject
o 3:10 p.m., Afternoon Keynote with Robert Fabricant, Vice President, Creative, frog design inc.
Conference sessions focused on timely green issues:
o 11:45 a.m., 30 Minutes with Jeff Omelchuk, founder and director of the Green Electronics Council
o 1 p.m., Gadget Talks with Tom Hadfield, COO, LaboGroup and Leonardo Bonanni, PhD Candidate, MIT Media Lab, Founder, SourcemapTM
o 2 p.m., Sustainable Show-Off, an interactive demonstration where companies "show off" their green products and encourage audience participation.
o 2:30 p.m., Green Spotlight with Joe Hutsko, author of Green Gadgets for Dummies, interviewing executives from Hewlett-Packard and Panasonic
o 4 p.m Greener Gadgets Design Competition, where judge's feedback and audience participation will determine the winner.