It's true that some of today's smaller smart cars do resemble golf-carts, but this one actually is–albeit a street-legal, European luxury version. The Garia LSV (Low Speed Vehicle) Concept Car, developed for the US market, is set to debut in March at the Geneva International Motor Show.
This electric two seater, according to The Alternative Consumer, was designed to travel on public roads not accessible to regular golf carts or neighborhood electric vehicles. The Garia LSV Concept Car is a street-legal version of the Garia Golf Car, "the ultimate European luxury golf car," manufactured at the same factory that produces the Porsche Boxster and Porsche Cayman. It features a built-in refrigerator, hand-stitched seats, high-performance drive components and a front suspension system inspired by Formula 1 cars.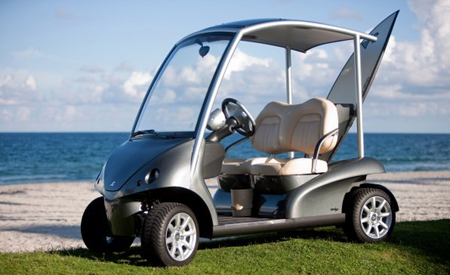 "The Garia LSV is ideal for shorter trips and recreational purposes, and with The Garia LSV it is possible to drive directly from your home to, for example, the golf course. This is something many people will appreciate, and it makes The Garia LSV a unique product" said Anders Lynge, Creative Director of GariaA/S and designer of The Garia, in a statement.