Wind power, as a form of renewable energy, seems to be blowing quiet well in Europe these days. Whereas we here in the United States project we might get 20 percent of all national power needs met via wind energy by 2024, the European Wind Energy Association announced that "more new wind power capacity was installed in the EU in 2009 than any other electricity-generating technology." This makes it possible, according to the EWEA, to produce as of the end of last year 63 TWh of electricity, meeting 4.8% of total EU power demand.
The EWEA said that, in 2009, 39% of all new capacity installed was wind power, followed by gas (26%) and solar photovoltaics (16%). This, coupled with reported shutting down of more coal and nuclear capacity than launched last year, showcased the fact that over 60 percent of the EU's new power generating capacity was handled by renewable energy technologies. This also makes for the second year wind power capacity has outpaced installations of other electricity-generating technology.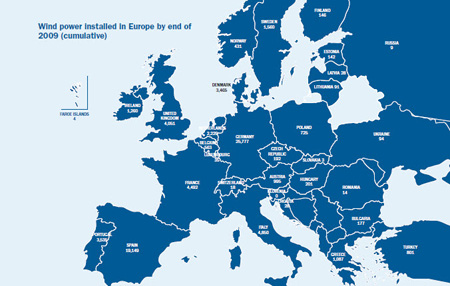 Breakdowns of new wind power installations by country, according to the EWEA, show that "the biggest share of new capacity installed in 2009 were Spain (24% – 2459 MW), followed by Germany (19% – 1917 MW), Italy (11% – 1114 MW), France (11% – 1088 MW) and the UK (10% – 1077 MW)." Germany remains the EU country with the largest installed capacity, followed by Spain, Italy, France and the UK.