"Homeowner, 45, seeks contractor for home improvement fun, knowledge of government rebates a plus." All right, that may not be an actual line from EnergySavvy.com, but the website does claim to be the Match.com for homeowners looking for green love in the home improvement department, according to Treehugger.
Using the website's online energy report tool, you can get a handle on how efficient your home is without having to go through the hassle of an actual, in-person audit. EnergySavvy then provides an estimate of how much you could be saving on utility bills and provides customized recommendations concerning high-priority upgrades, along with lists of green contractors in your area and information on tax rebates and credits.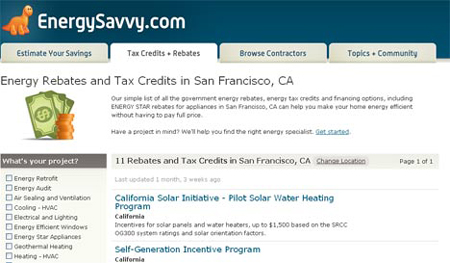 While the website can't offer the specificity of an actual in-person audit, it does offer quick and easy calculations concerning how much you could expect to save, for example, by changing out the insulation, given average weather conditions and energy costs associated with your zip code. It also offers peace of mind in the hiring department, as all of the website's contractors come pre-screened.