Luxury auto manufacturer BMW looks to be bringing another hybrid vehicle into its stable. This time around, according to Autoblog Green, this new hybrid will join the company's 5 series sedan. A concept is planned for showcasing at the Geneva Auto Show next week, with a production model perhaps coming as soon as next year.
The BMW Concept 5 Series ActiveHybrid, according to BMW, sports a drive system that consists of "a straight-six gasoline engine with TwinPower Turbo technology, eight-speed automatic transmission, and electric drive." This integration reportedly will deliver reductions in "both fuel consumption and emissions…by more than 10 per cent." The electric motor will further supplement the gas engine with a "boost function," that generates "particularly dynamic drive power for an even more sporting driving experience in the car."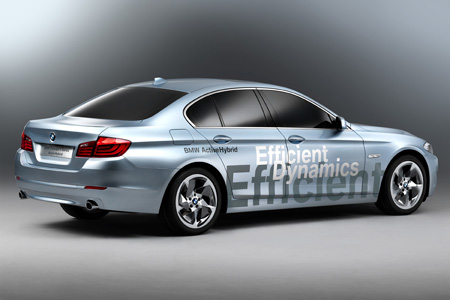 Like other hybrids, the drivetrain in the BMW Concept 5 Series ActiveHybrid allows for short distance "all-electric, zero-emission motoring." Added to this is a special function that "offers additional efficiency by consistently switching off the combustion engine when stopping at the traffic lights, a road junction, or in congested traffic." It is said that the electric motor has a maximum output of 40 kW, with power fed to it by the electric drive systems as well as energy from regenerative braking.