Are you ready for the affordable green modular home? Rhode Island native and school bus driver Rainy Day (yes) was, so she had Blu Homes, Inc. deliver her "absolute dream home" to directly to her family farm, presumably via semi-truck.
Make no mistake, just because the Blu Element Green Home is a pre-fab does not mean it's a make-do sort of bare-bones residence. Complete with eco-essentials like EnergyStar appliances and low-flow water fixtures, the Element also comes with niceties like recycled paper countertops, "gleaming" bamboo flooring, high ceilings, recessed lighting, a fireplace and even a towel-warmer in the bathroom. (!)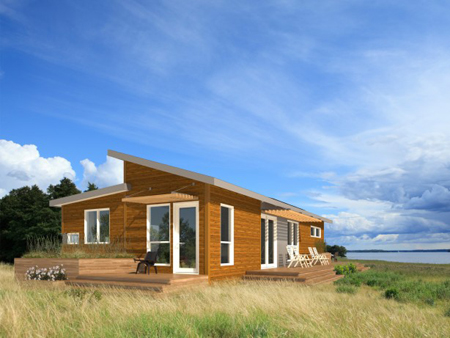 The Element is available in a number of different floorplans but is best suited overall, according to the company, to small families and empty-nester's. A basic one-bedroom model wil run you $125,000 before shipping and site work costs.