The Lexus 2010 HS 250h hybrid–i.e., "the world's first dedicated luxury hybrid"–has a new claim to fame: it's been awarded five out of five stars by the National Highway Traffic Safety Administration (NHTSA) for safety.
The New Car Assessment Program (NCAP), a consumer information program created by NHTSA, rates vehicles to determine crash and rollover safety, gathering info through controlled crash and rollover tests. Lexus says the body structure of the HS 250h plays a key role in its fundamental safety characteristics, citing high tension steel components located in the body structure, doors and other key areas to help absorb and distribute energy in the event of a crash. The Lexus HS 250h's five star rating takes into account both the front impact for the driver and front passenger positions as well as side impact for the driver and left rear passenger positions.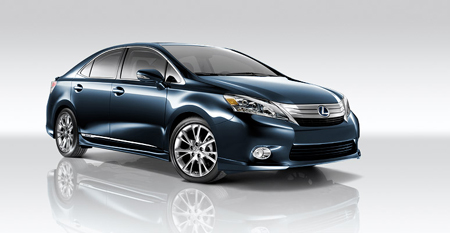 Of course, if you're interested in actual gas mileage, the Lexus HS 250h only gets 35 mpg in the city, opposed to the Prius' 48–but that's still 80 percent better than "the average near luxury [?] car," according to Lexus.
Lexus HS 250h [via press release]