Who says desk task lights have to be boring or not eco-friendly? Humanscale is tackling both with the general release of its new Element LED task light for consumers. Green eco-coolness looks like it will cost you with this one though, running for around $340 and above online.
The Humanscale Element is said by its maker to be the first light of its kind to meet all the Department of Energy's criteria for an LED task light. It uses up just seven watts of power when active while also providing what is called "ergonomic lighting levels" – the equivalent of 70 watts of incandescent lighting. It is said to offer nearly 60,000 hours of light and "utilizes a single multi-chip LED that produces a large footprint of bright neutral-white 3500 Kelvin light."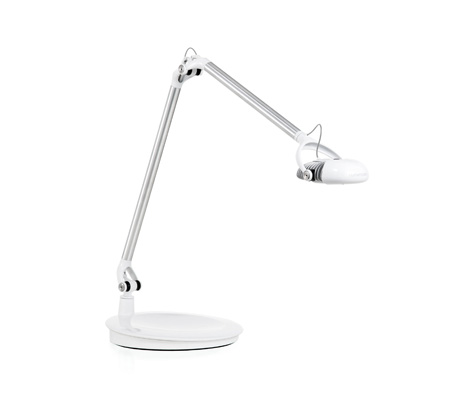 Features of this light are said to include easy replacement of the LED, interchangeable plug options, different body colors, mostly recyclable and a series of metal fins designed to keep the unit cool. The Element, since first being introduced last year, has won a number of design awards and was designed by Mark McKenna, Design Director of the Humanscale Design Studio.