Antarctica may be a frozen wasteland, but many countries have bases on the continent for scientific research and other pursuits. Why not use two of the few resources readily available there–wind and solar–to power those bases? That's the thinking behind the opening of what's being called "the world's southern-most wind-farm" by New Zealand-based Meridian Energy–which plans to move on with plans for a solar station should the wind-farm prove successful.
The Ross Island Wind Energy project (it's located Crater Hill, Ross Island, Antarctica) features three wind turbines housed in sturdy towers. Greenlaunches reports that together, they're expected to supply about 11% of the annual power needs of New Zealand's Scott Base, as well as the American McMurdo Station. That may not sound like much, but considering that all electricity for the bases is currently being supplied by diesel generators, these three wind turbines have the potential to cut diesel use by over 122,000 gallons per year.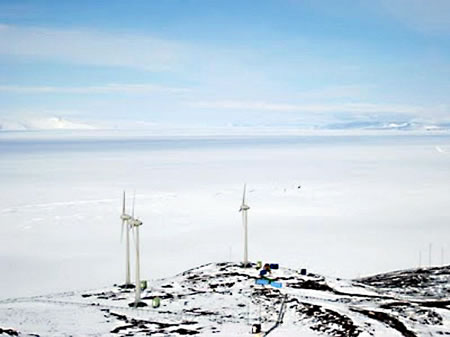 According to Businessgreen, this is not the first effort to cut the carbon footprint of the world's southern-most continent. Australia's Mawson scientific research station already runs two turbines, and there is speculation that if the Meridian wind-farm proves successful, it could tip off a series of renewable energy initiatives on the continent most affected by global warming.