The opening of the Los Angeles Auto Show this week brought about a number of green car related announcements. One of the most anticipated of these was the long awaited North American debut of Toyota's Prius Plug-in Hybrid vehicle (PHV), which will see a limited production run in the United States early next year.
Toyota said it plans to distribute 150 vehicles "in regional clusters with select partners for market/consumer analysis and technical demonstration." This test run of the Prius PHV will allow the auto manufacturer to collect consumer-related data "to better understand customer expectations for plug-in technology." This will be done in part with each Prius being equipped "with data retrieval devices which will monitor activities such as how often the vehicle is charged and when; whether the batteries are depleted or being topped off during charging; trip duration, all-EV driving range, combined mpg and so on."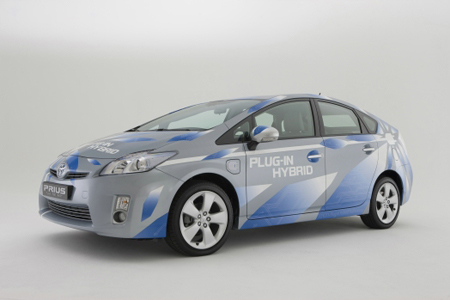 Toyota is slowly creeping into the idea of taking the Prius beyond just regular hybrid status. This new model takes the car's noted hybrid technology and marries it to "a first generation lithium-ion battery that enables all-electric operation at higher speeds and longer distances than the conventional Prius hybrid." It is said that when the battery is fully charged, it will be able to drive a maximum electric only range of 13 miles while achieving a top speed of up to 60 MPH.
Toyota Prius PHV [via press release]