It sounds too good to be true: a zero emissions car that runs on 100% natural compressed air–no petroleum, alternative fuels, or batteries required. But the OneFlowAIR is one of five actual vehicles soon to be released by MDI (Motor Development International), which has spent the last ten years developing the compressed air technology found in this cute, futuristic little car.
According to the company, the OneFlowAIR's compressed air tanks can be refilled in just two minutes–at home or while driving down the road.  It uses mono-energy compressed-air for city driving, and a dual-energy hybrid engine on the open road which can make use of gas, diesel, biodiesel, alcohol, or vegetable oils, in addition to compressed air.  The car boasts a 560 mile road range with the dual-energy engine, 62 miles with mono-energy.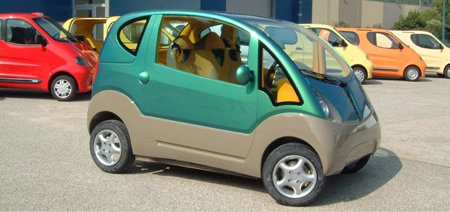 Coming in at just over $5,000 for the basic version and just under $8,000 for the "more complete" version, this is one of those cute little eco cars that is also economical enough to appeal to the emerging car-buying public of the developing world, which bodes will for its future. It's not for sale yet, but if the OneFlowAIR sounds like your next ride, you can fill out an 'Intention to Purchase' form on the company's website.
OneFlowAIR [via EcoTechDaily]