NEC, a well known manufacturer of commercial LCD displays, announced yesterday it would be bringing to market its first ever more energy efficient, LED-backlit display for businesses. It is the 22-inch MultiSync EA222WMe, and it prices for around $340.
The MultiSync EA222WMe, making use of LED backlighting technology, is said to consume "up to 52 percent less power, radiate up to 61 percent less heat, weigh up to 25 percent less and use up to 15 percent less packaging" compared to previous generation NEC LCDs. It sports a variety of eco-certifications, including Energy Star, TCO and EPEAT Gold, and the monitor and cables are free of unfriendly chemicals like mercury, halogen and arsenic.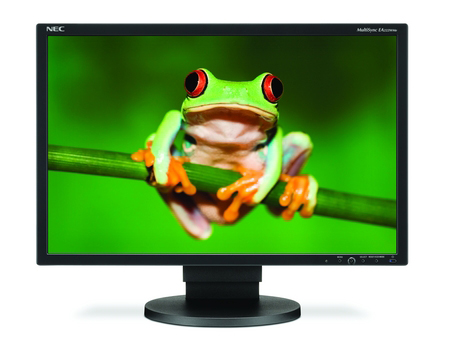 NEC is so sure users of this monitor will want to embrace its eco-friendly nature that it has built in a resettable carbon footprint meter which "calculates the reduction of greenhouse gas emissions." Also integrated is a "resettable cost meter, which indicates the user's electricity cost savings" via an on-screen display. Rounding all of this out, at least on the green focused feature set, is a power management system, off timer, ambient light sensor and vacation switch to further help conserve energy.
NEC MultiSync EA222WMe [via press release]