Coming soon: green home improvement for the masses. (Or at least, the masses in California.) Lowe's Home Improvement recently announced that it will be launching a series of new "Energy Centers" in 21 California stores, aimed helping consumers improve energy efficiency and go green at home.
The Lowe's Energy Centers will feature demonstration videos and a touch-screen kiosk, focusing on three ways customers save energy and money: 1) measuring how much energy they use or lose, 2) reducing energy consumption, and 3) generating renewable energy at home. Each one of these objectives can be accomplished (of course!) using products that Lowe's sells, including power monitors, CFLs,  programmable thermostats, solar panels and soon, even wind turbines for both rural and urban settings.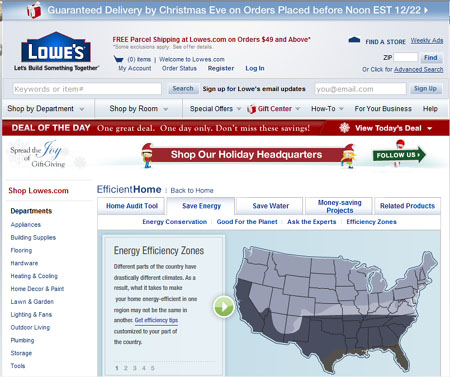 "Homeowners are paying more attention than ever to their utility bills, and the first step to saving energy is tracking where it's going," said Nick Canter, Lowe's executive vice president of merchandising, in a statement. "By providing monitoring tools to help customers know their numbers, Lowe's is helping them find the money-saving solution that's right for them." The company plans to add Energy Centers to additional U.S. and Canadian stores in 2010.
Lowe's Home Improvement [via press release]