Even as you strive to be more water usage efficient with your new Whirlpool steaming washing machine, have you given thought to how much water you waste while you shower? A lot more of it goes down the drain a daily basis then you'll need, but it is also hard to measure how much is enough. One particular little gadget, the Efergy Shower Timer, aims to change that.
The Efergy Shower Timer, on sale in the United Kingdom, lets you determine the optimal time to shower in order to feel clean and also save water. You start with an included measuring bag which lets you figure out how much time it takes for one liter of water to flow out. This information, recorded to the timer, lets you then set how many liters of water you want to use. It then determines, as you shower, how close you are to that set number.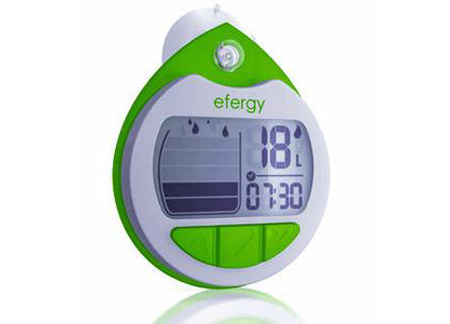 This timer, which is powered by a lithium battery, definitely can be a water saver for those worried about how much of this particular natural resource they are using. Besides this gadget in your shower, another eco-friendly item you might consider, especially if you like to shower early in the dark morning, is the Sylvania EcoLight Water Powered Shower Light.
Efergy Shower Timer [via Coolest Gadgets]