Tesla Motors employees, trying to combat the notion of "range anxiety" among those considering electric vehicles, embarked last week on a cross country trip in one of their all-electric Roadsters. The trip will stretch approximately 2,700 miles from Los Angeles to Detroit, with the automobile arriving in time for the upcoming North American International Auto Show.
A range of Tesla employees, including engineers, lawyers, recruiters and salespeople, are taking turns driving Roadster #750 during the road trip. They are said to be making "dozens of stops nationwide for test drives, tech talks, customer-appreciation events and media opportunities." At last glance, the current drivers had just entered New Mexico after a 242 mile all electric drive from Tucson, Arizona.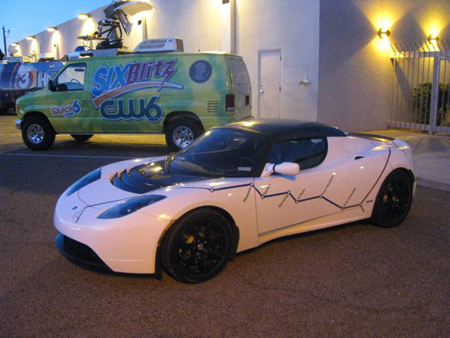 Tesla Roadster #750, like others made before it, is considered a luxury electric sports car. It sports "exposed carbon fiber and premium leather," along with a "centrally mounted video screen" which provides real time information to the drivers about the car's current eco-driving conditions. It can hit 0 to 60 mph in about 3.7 seconds and can be charged through either a "high-output outlet" or a standard wall one. This particular car also is sporting a decal showing what stops the Roadster crew is aiming for during the trip.
Tesla Roadster Road Trip [via press release]