The upcoming Leaf electric vehicle, now on tour around the United States to introduce it to consumers and local media, kicked off recently in Los Angeles. It was at this kick off tour that Nissan, the auto manufacturer behind the Leaf, and Reliant Energy, an energy provider in Texas, announced a partnership which will prep the roads of the Lone Star State for zero-emission vehicles to more easily travel between different points.
Nissan and Reliant Energy specifically plan to to promote a charging infrastructure for electric cars that encourages home and workplace charging, as well as a public charging infrastructure." The companies will also work to coordinate the establishment of policies and help streamline charging infrastructure deployment through what we presume is the lobby of local and state government officials.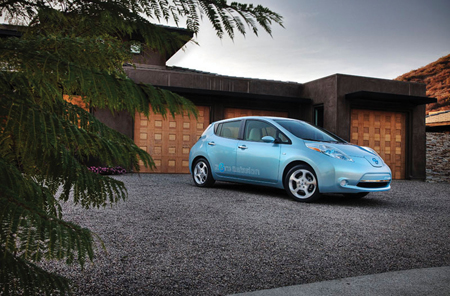 "We can now see a clear path to having thousands – even hundreds of thousands – of zero-emission vehicles on Texas roads in the next several years," said Jason Few, President of Reliant Energy, in a statement.
Nissan Leaf [via press release]