The last time we mentioned USB flash drives here at EarthTechling, we focused on one which was totally made from recycled paper. The one we are showcasing here is different in that it uses a traditional plastic body, but what makes it stand out is the fact it doubles as a solar charger for other portable devices. It is called the Zyrus Sun Drive.
The Zyrus Sun Drive, available pretty much only in Asia at this point, is described as a four-in-one product by its manufacturer, wrapping together functions as a solar charger, USB charger, extra battery and USB flash drive. As far as being a solar charger goes, one should expect to use this mostly as an emergency back up charge for times when your cell phone is dead and you have no other means of charging in site – it is estimated four hours of solar charging time will get you about 17 minutes of talk time on a typical mobile.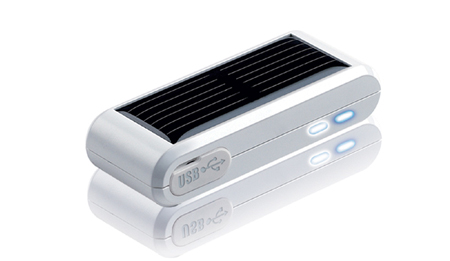 With regards to being a USB flash drive, the Sun Drive comes in a variety of sizes up to 16 GB of storage. The size of this drive is pretty small, making it something one could easily slip into a purse or pocket, and the fact it can also be charged through connecting it to a USB port of a computer sets up a scenario where one could initially charge it completely through the USB connection. This could then be followed by solar charging to keep a steady back up power supply.
Zyrus Sun Drive [via DVICE]