Solar technology is normally something one might consider as an alternative form of energy for devices like clocks, but what about water instead? Water powered clocks aren't big in popularity, but they still make for interesting gift ideas for green geeks out there. One of the latest to join this small category of items is the Bedol Water Clock with Alarm.
The Bedol Water Clock with Alarm, priced under $30, has a small, built-in power converter which uses ions from the water housed in the clock to produce electricity. This energy powers the clock for 8-12 weeks, depending upon the content of the local tap water used. After that one needs to change out the liquid in the four-ounce, PVC-free water reservoir.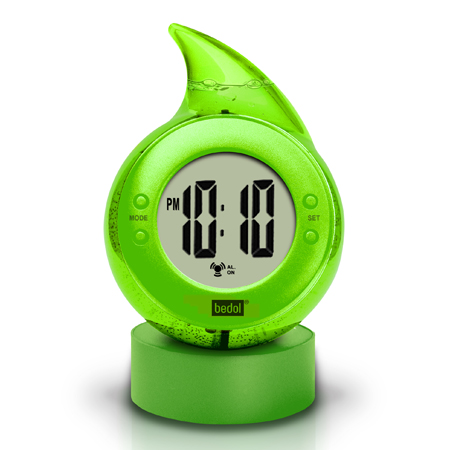 Features of this water-powered timepiece include a digital display, alarm function and choice of five body colors, including blue, green, pink, purple and charcoal. Bedol also previously developed a non-alarm water clock as well, which is available still for purchase.
Bedol Water Clock with Alarm [via press release]