For those who'd like to go green but aren't ready to kick the AC habit, a new product from Mitsubishi is here to help: the ZW Series of air conditioners comes equipped with a suggestion function called "Notification Navigation" that proposes over 60 ways to conserve energy; for example: "Closing the curtains will save electricity."
According to Tech On, suggestions aren't made in a pushy manner. An indicator on the air conditioner comes on, and when a special button on the remote is pressed, the LCD display on the AC unit shows the suggestion. The concept was apparently inspired by similar functions installed in hybrid cars, such as the popular "Eco Assist" function of the Honda Insight, which provides drivers with tips for fuel-efficient driving.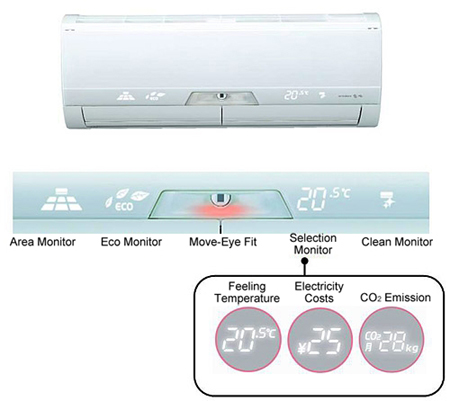 Other eco-features of Mitsubishi's ZW Series air conditioners include the use of closed-loop plastic collected from end-of-life appliances and reusable piping, as well as a nontoxic materials profile, as defined by the EU's RoHS Directive and the Japan Industrial Standards.
Mitsubishi [via Greentech Media]