Looking for new set of luxury green wheels? If you're interested in the same hybrid technology found in the Toyota Prius at four times the price, consider the 2010 Lexus LS 600h L, which will arrive at dealerships soon.
Adjustments to the Lexus LS 600h L include revamped styling and new luxury amenities for 2010, including 19-inch alloy wheels, bumper, blue-tinted taillights, license plate surround and exhaust diffusers as well as advanced front active headrests, standard Intuitive Park Assist with Advance Parking Guidance and Intelligent High-Beam, according to Lexus. The LS 600h L is also available in three new exterior colors: Blue Harbor Metallic, Peridot Mica and Satin Cashmere Mica.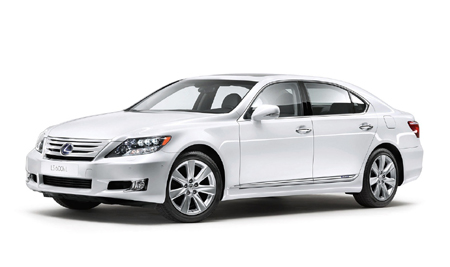 If you want to go all out, the Premium Package II on this model includes essentials like a butterfly rear headrest and seats with lumbar massage. The new MSRP for the Lexus 600h L does not include a $875 delivery fee.
Lexus 600h L [via Autoblog Green]