With many people dumping traditional phone landlines these days in favor of wireless or broadband based telecommunications solutions, the old standby phone jack now sits empty, alone and forgotten in a growing number of homes. These jacks, which generate a small amount of energy, could potentially be used to power uber-energy efficient devices, such as this table reading light lamp for sale for around $5.
This table reading light lamp, on sale through Uxsight, uses power from only a regular RJ11 telephone socket to light up your desk. It has eight small LED lights installed into it, said to have a life of up to 100,000 hours. It sports a goose neck design so one can adjust the angle of light being projected.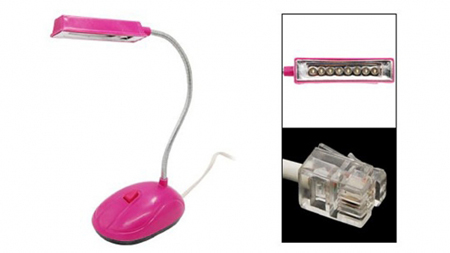 Features of this telephone jack powered lamp include a base made of plastic and alloy materials and an on/off switch. It isn't the most pretty lamp to look at, but for five bucks and free electricity through your phone jack, you can't really complain, now can you?
Uxsight Telephone Light Lamp [via Gizmag]