We know the season for BBQs and such has pretty much wrapped up, but it is never too late to start thinking about your grilling and partying plans for 2010. One of the more interesting items we are seeing which will be powered by an electric motor is the iRev, a rather unique party boat shaped like a donut.
The iRev, developed by an outfit known as Motothority, lets a group of up to 10 adults putter around on a body of water via an optional 24-volt electric motor. It is also claimed by the manufacturer that this water craft is made from nearly half reclaimed material and is mostly recyclable. It sports a low smoke charcoal grill which diffuses most of the smoke internally so passengers aren't asphyxiated while waiting for their burgers to cook.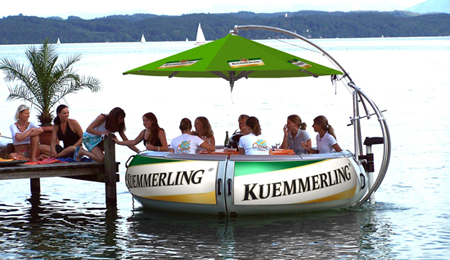 Amenities on this floating electric party barge include beverage and utensil holders for each passenger, storage drawers under the seats, a manually retractable sunshade and a variety of custom colors. Motothority will even add, for an extra charge atop the already hefty price tag of around $24,000, a marine speaker system with MP3 and satellite radio connections.
Motothority iRev [via Uncrate]