When you shop in a grocery store or other retail outlet, do you ever wonder about what goes on behind the popular products you buy? You know – potential health issues, environmental responsibility and social concerns of these items? GoodGuide, a company which lets you look up such issues through its Web site, now has an iPhone application which lets you scan barcodes to get this data on your mobile's screen.
GoodGuide, licensing barcode scanning technology, has turned the iPhone into an ethical barcode scanner. To make it work, one holds up the item in question's barcode and launches the application. You then use the phone's camera to "scan" the barcode and, through an active wireless or 3G connection, data from this scan is matched with GoodGuide data to return results on the product.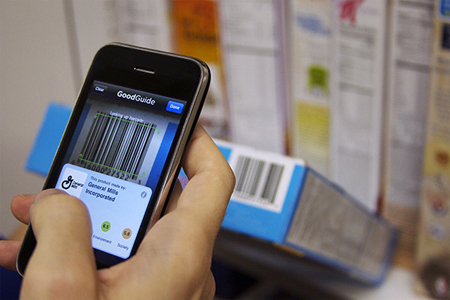 GoodGuide says, that with this scanning feature, consumers can now see "detailed and independently researched ratings for health, environment and social responsibility for over 50,000 products and companies." It is also planned that select items which are scanned more frequently than others, but not found in GoodGuide's data, will be used as datapoints by the company to determine which products to rate next. The GoodGuide app is available for free through the iTunes online store.
GoodGuide iPhone App [via press release]