Green gadgets, as we've probably mentioned before, come in all shapes and sizes and from well known companies as well as tiny one person operations. Getting a clear way to market these products so consumers and retailers know they exist can be hard. The Consumer Electronics Association in recent years has been addressing this with a dedicated space at CES for such products, including those which win a yearly contest called the Greener Gadgets Design Competition.
A new Greener Gadgets Design Competition is slated again, this time in February, 2010. Event organizers have put out a call for product ideas again which help "solve issues of energy efficiency, carbon footprint, sustainable lifestyles or development in nations off the grid." To get an idea of what ideas are typically submitted, you can check out last year's list.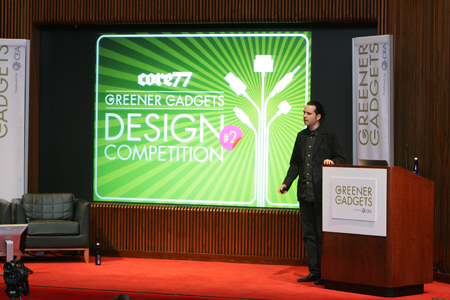 Assuming this year's format follows last years, the top 50 ideas will be made available online for voting from the public. This process will whittle it down to a final 10, which will be judged live at the previously mentioned event next year. The competition final is tied to a one-day green tech conference.
Greener Gadgets [via press release]