Wheat gets a lot of uses these days, mostly in food and beer. Cars though? That's the idea behind an announcement Ford made today over its 2010 Ford Flex – this crossover utility vehicle will be the first to have in its interior wheat straw-reinforced plastic as part of the third-row interior storage bins. And no, you can't eat it.
Ford says it teamed with University of Waterloo in Ontario, Canada, as part of the Ontario BioCar Initiative, in this undertaking. The university researchers developed the formula for this bio-material for use in auto parts, "ensuring the material is not only odorless, but also meets industry standards for thermal expansion and degradation, rigidity, moisture absorption and fogging." It is said to demonstrate "better dimensional integrity than a non-reinforced plastic and weighs up to 10 percent less than a plastic reinforced with talc or glass."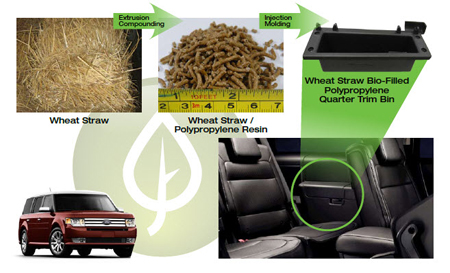 The sustainability of this new bio-plastic is said to be measured by the abundance of wheat straw, the byproduct of growing and processing wheat. This straw, which otherwise would probably be tossed in mass quantities, is now finding a home inside cars to the current tune of of 20 percent of the total for the given area. Ford is considering other applications of this material inside its vehicles, including in center console bins and trays, interior air register and door trim panel components and armrest liners.
2010 Ford Flex [via press release]