Anyone who's ever been frustrated by the lack of recycling services in their area for computers and cell phones–not to mention more obscure e-waste items, such as cords, cables, electronic media and their cases–now has a viable solution. Greendisk offers offers paid "technotrash" recycling services via US mail that tackle nearly every electronic device or accessory imaginable.
Greendisk offers a complete computer system recycling kit, as well as its Technotrash Can option. The Technotrash Can comes in two sizes–Standard, for $29.95, or Tall, for $49.95. When your Technotrash Can arrives, you can stuff it full of as many defunct electronics as it can handle, then ship it back to the company, postage paid. The company's first priority is to resuscitate the electronics it receives through refurbishing; if this isn't possible, it works with a network of nonprofit organizations to recycle all components in the United States.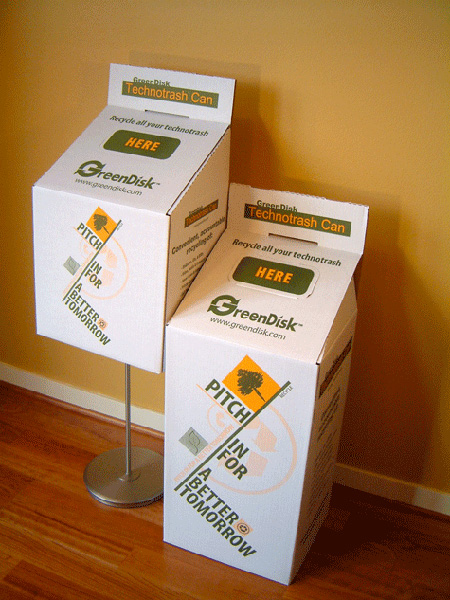 Greendisk accepts a near-comprehensive list of electronics, including computer components and hardware, storage media, hard-drives/jump drives, all printer and toner cartridges, rechargeable batteries, cell-phones, PDAs, chargers, cables, MP3 players, digital cameras and handheld games.