A new product slated for release in early 2010 could help to bring wind-power to environmentally sensitive areas (such as National Parks) and aesthetically sensitive ones (such as urban homes.)  Developed by a UK-based team of aeronautical and turbine engineers known as The Power Collective, the RidgeBlade is a wind turbine designed to mount along the ridge line of a building, creating very little visual impact.
The turbine boasts not only low aesthetic impact, but the ability to generate electricity in low-wind situations, and at an affordable price tag. The design takes advantage of the way wind is naturally forced upward over the surface of roofs on existing buildings to turn a blade turbine discreetly housed at the ridge line or peak of building. The Power Collective won the 2009 Dutch Postcode Lottery Green Challenge for the RidgeBlade, earning €500,000.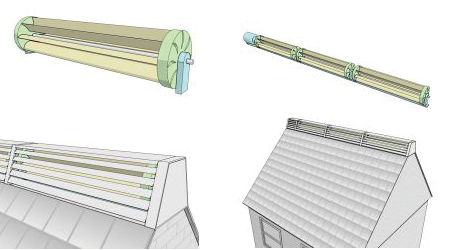 Liesbeth van Tongeren, executive director of Greenpeace Netherlands and a juror for the Postcode Lottery Green Challenge, said the RidgeBlade "has great potential to reduce emissions," noting that the production cost was likely to make the turbine affordable and attractive for consumers. The RidgeBlade wind turbine is currently undergoing performance testing in anticipation of its early 2010 release.
RidgeBlade and Dutch Postcode Lottery Green Challenge [via RedFerret]