Beyond Apple, Dell is one of the next tier of computer manufacturers most focused on making its products available at retail more environmentally friendly. The latest case in point is a bevy of six new inkjet printers announced earlier this week targeted towards both individuals and small businesses. These printers have a few eco-features in common and range in price from between around $100 and $200.
Dell said these six new printers – the P713w, V715w, V515w, P513w, V313 and V313w – all sport an "Eco Mode" button which, when pressed, offers up some different features. These can include, depending upon the model, two-sided printing, dimming of the LCD display and standby Power Saver mode, which engages after 10 minutes of non-use. Other green features of note include free recycling of one's previous printer and energy efficiency compliance with standards such as WEEE, Energy Star and RoHS.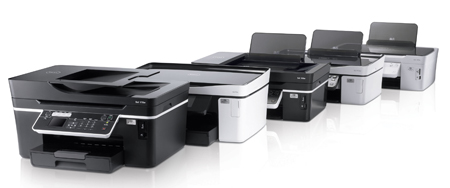 Functions in common for these models, beyond the green ones, vary somewhat. You'll find several of them to be wireless all-in-one models, allowing wireless printing over a local network. They also scan, fax and offer print speeds "of up to 33 pages per minute (mono) and 30 pages per minute (color) (letter)." Some as well are available with optional pink/white and blue/white trim for a slightly less generic look.
Dell [via press release]